Horror Movies & Sci-Fi Movies Database

03.09.08

---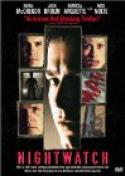 A law student takes a job as the night-watch in a morgue, thinking that he will have much time to study, with his biggest problem being his paranoia in this scary setting, but in the history of this morgue lies a dark secret: there was once a man raping female corpses, but is history really gone? And who can he really trust? Will he discover truth before it's too late for him and his best friend?

Movie Tagline:
He's the prime suspect in a terrifying mystery. The police are after him and so is the murderer.

Title: Nightwatch
Release Date: February , 1997
Runtime: 101 mins
Genre: Drama
All Genres: Drama, Horror, Thriller
Languages: English
Country: USA
Colors: Color
Sound: Dolby Digital
IMDB Rating: 6.2
Brimstone Pit Rating: 7.2 - (Rate This Horror Movie)
Category: Horror Movies Starting With N

MPAA Rating: R

MPAA Rating Reason:
Rated R for strong, morbid violence, language, sexuality, and some drug content.

Director(s):
Ole Bornedal

Cast:
Ewan McGregor ...Martin Bells
Patricia Arquette ...Katherine
Josh Brolin ...James Gallman
Lauren Graham ...Marie
Nick Nolte ...Inspector Thomas Cray
Brad Dourif ...Duty Doctor
Alix Koromzay ...Joyce
Lonny Chapman ...Johnson, Old Watchman
Erich Anderson ...Newscaster
Scott Burkholder ...College Professor
Michael Matthys ...Guy in Pub
Alison Gale ...Girlfriend of Guy in Pub
Robert LaSardo ...Pub Thug
Mongo ...Pub Thug
Candy Ann Brown ...Female Paramedic
Michelle Csitos ...Prostitute
Lennie Loftin ...Man in Theater
Bradley Gregg ...Theater Actor
Nicholas Sadler ...Theater Director
Jeff Davis ...Stagehand
Nicholas Cascone ...Male Paramedic
Ben Skorstad ...Helicopter Pilot
Anais Evans ...Leanne
Larry Cedar ...Waiter
John C. Reilly ...Deputy Inspector Bill Davis

Producer(s):
Cary Granat
Daniel Lupi
Michael Obel
Bob Weinstein
Harvey Weinstein

Writer(s):
Ole Bornedal
Ole Bornedal
Steven Soderbergh

Composer(s):
Joachim Holbek

---

Movie Soundtrack(s):
"Happy Birthday to You"
"Setting Sun"
"House to Myself"
"String Quartet in B-Flat Major"
"The Wake-Up Bomb"
"This Old Man"
"Pain"
"Loops of Fury"
"Largo el Factotum"
"Menuet - Op 13"

More Movie Taglines:

He's the prime suspect in a terrifying mystery. The police are after him and so is the murderer.
In the mind of the police, he's the prime suspect. In the eyes of a killer, he's the next victim.
What if someone you trusted was setting you up? What if you were the final piece in a brilliant serial killer's puzzle? The night holds the secret.
He's a full-time college student who just took the wrong part-time job. Now he's the final piece in a brilliant serial killer's puzzle.
Movie Quote(s):
Inspector Thomas Cray: Have you ever been killed before? I'll be back in a minute.
Martin Bells: Don't you see it, that's all I've gotta do. Just sit on my ass. Sit. On. My. Ass.
Martin Bells: You're a fucking nutcase! James Gallman: That's Mr. Fucking Nutcase to you!
Katherine: You had strange dreams last night. Martin Bells: I did? Katherine: Mmm. You were breathing really heavily. Kept kicking your legs and moaning. Martin Bells: You sure we weren't having sex? Katherine: Pretty sure. Yeah.
Martin: You're insane! James: No, I'm not.
Movie Trivia:
The black and white picture of the guy on death row in the cabin is the same one used in the original version of this movie (Nattevagten (1994)).
The photograph on the bulletin board at the guard desk that Martin notices when he shows up for his first shift and asks the old watchman about, is a famous photo of Lewis Thornton Powell (also known as Lewis Paine or Lewis Payne), a conspirator with John Wilkes Booth, the assassin of Abraham Lincoln.
Originally Ole Bornedal wanted Harrison Ford to play the part of Inspector Thomas Albert Cray.
IMDB Links:
» User Comments at imdb.com
» More information at imdb.com

Keywords:
Morgue, Student, Suspect, Murder, Paranoia ...[more]



BURIED HORROR MOVIE REVIEWS
Horror movies, horror movie reviews, fiction reviews, interviews, conventions, horror editorials, special features & alot more from the guys your mom warned you about.

MORTAL KOMBAT NIGHTMARES - WELCOME TO OUR WORLD
Mortal Kombat Nightmares is the premiere source for all that is Mortal Kombat. Complete coverage of the entire MK series.

SCREAM QUEEN OF THE MONTH
Featuring the hottest ladies in horror. From Scream Queens to B-movie Babes, we have them all! The Horror Hotties are here!